Who are we and what do we do?
CCKC is a member club of the American Kennel Club, the country's oldest and largest purebred dog registry. We are a club of dog fanciers who get together to host shows, provide educational information to all dog owners, and support various dog-related events throughout the area.
CCKC operates a breeder referral service accessible by email and telephone. You can reach our hotline volunteers at (513) 756-9022 or editor@canismajor.com for a referral to breeder or a regional or national breed club. (You might also try the American Kennel Club 900 number [(900) 407-PUPS (7877)]— touch tone phone required — or visit the AKC website at www.akc.org.)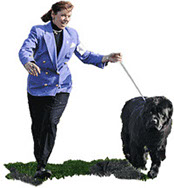 Our calendar includes our big October weekend featuring three days of conformation shows, a canine health clinic, a raffle, and more. The show is held at Eukanuba Hall at the Roberts Centre off I-71 in Wilmington. (More about the show)
CCKC members are active in a broad range of dog sports. We compete in breed competitions; obedience, Rally, and agility trials, and many AKC and breed club tests that prove the natural abilities of our dogs to hunt, herd, and perform other breed-specific tasks. The club recognizes these achievements with awards for members who achieve a championship with a dog they have bred, own, and handle and for those who achieve titles in at least three different disciplines. We also honor a Member of the Year and recognize long-time members who work for the club and the sport of dogs with lifetime memberships.
As with all AKC member clubs, CCKC operates under an AKC-approved Constitution and Bylaws.
CCKC opposes laws and regulations that harm responsible dog owners and works to pass reasonable laws to protect dogs and dog owners through Ohio Valley Dog Owners Inc. We are a member club of the National Animal Interest Alliance, Ohio Valley Dog Owners, and the AKC Canine Health Foundation, host AKC education booths, administer the Forrest Dye Education Fund, give scholarships to junior handlers, operate a breeder referral service, support local and state 4-H dog events, and donate money to various animal-related charities and organizations. Past donations include a set of AKC breed video tapes to the Clermont County library system, bullet-proof vests to two local police dogs, resuscitation masks for dogs and cats to local fire departments, scholarships to veterinary technician students, and dog toys to a prison program for rescue of retired racing greyhounds. Members also participate in education booths at various area functions, join other area clubs in educational efforts, and testify at local and state government hearings on matters of interest to dog owners. For more information about club activities, contact our club secretary.